Congratulations! You are either a faculty member, returning student, or have just been accepted and are soon to be paying a high price tag for a worthy education at Columbia University in NYC's Upper Manhattan. As if waiting to get accepted didn't already make you nervous and sick to your stomach, you now have to deal with the realities of ACTUALLY attending the university. At the top of your bucket list is going to be dealing with the fact that you will need to move to NYC into an off-campus housing apartment situation ideally as near and close to Columbia University as possible. Making matters more complicated is the uncertainty surrounding the coronavirus that you now have to deal with.
The Areas and Locations Around Columbia University
One top criterion each person is going to have for off-campus housing is going to be the proximity between where you live to the university campus. You obviously want to look for apartments near Columbia University. And by proximity, the term is in relation to commute times and how quickly you can get from your home to the Columbia University campus. Generally, everyone can agree that an ideal commute time would be around the 30 minutes, maybe 40-minute mark. No one wants to spend that much time commuting unless they absolutely had to. That commute time would constitute renting an apartment near Columbia University.
Locating Columbia University On The Map
Columbia University is located in Upper Manhattan. The main area of CU starts at 114th street through about 124th street all on the west side of Manhattan.
Columbia University Off-Campus Housing When Commuting By Walking
The best-case scenario is to find Columbia University Off-Campus Housing within walking distance to campus. The running adage is that it conservatively takes 2 minutes to walk one NYC street block and 5 minutes to one NYC avenue. The housing range of options for Columbia University Off-Campus Housing starts at 90th street on the Upper West Side and goes north up to 140th street and then as far east as Malcolm X Boulevard.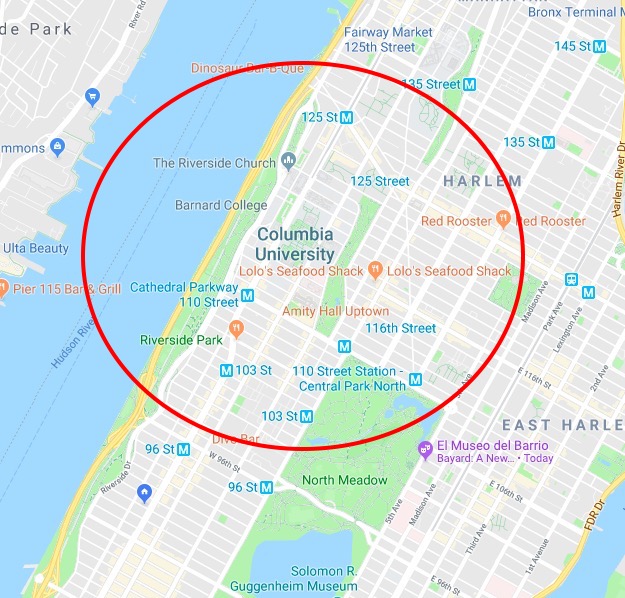 Here is a list of local apartment buildings to rent from, all of which are within walking distance to campus:
Apartments Near Columbia University For Rent in the Upper West Side
Apartments Near Columbia University For Rent in Manhattan Valley
Apartments Near Columbia University For Rent in Upper Manhattan
Apartments Near Columbia University For Rent in Morningside Heights
Columbia University Off-Campus Housing When Commuting By Subway
Commuting to Columbia University by subway drastically expands the off-campus housing options making those apartments near Columbia University. It allows you to consider multiple neighborhoods North and South of campus. NYC subways are quite fast and run frequently. We're talking about a subway arriving every 5 minutes which means you rarely have to follow a schedule, stare at the time or rush to a subway because if you miss one, you know another one is arriving shortly after.


Your best friends are going to be the subway lines: Red 1 | Blue A, C | Orange B. As long as you live near any of these subway lines, your commute time to campus will be within 30 minutes. Each of those subways gets you to the corners of campus.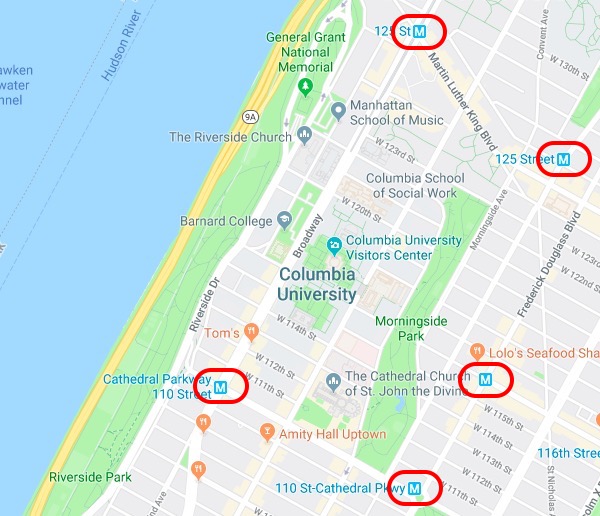 You can look for apartments as far North as 181st street or go down as far South as 66th street. As long as you are sticking to the west side of Manhattan, you will be within walking distance to one of those subways that gets you to campus very quickly.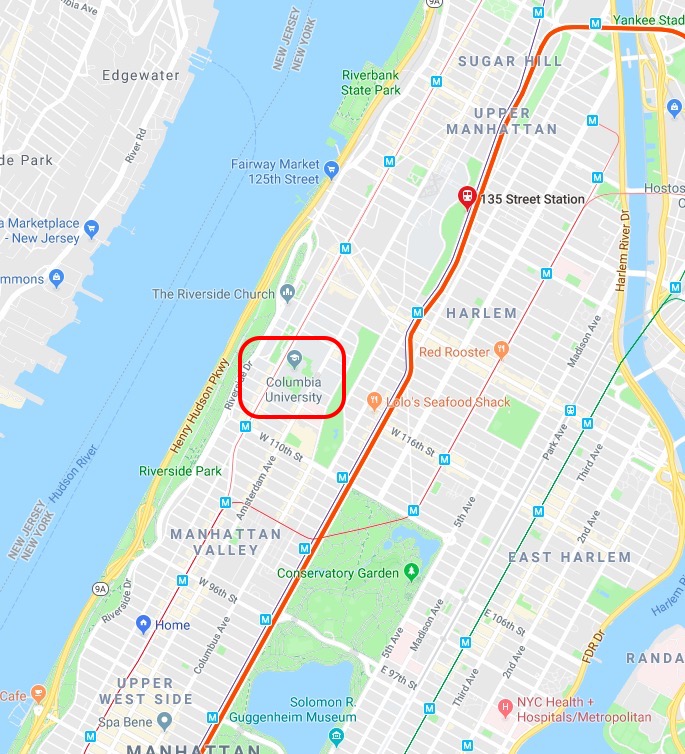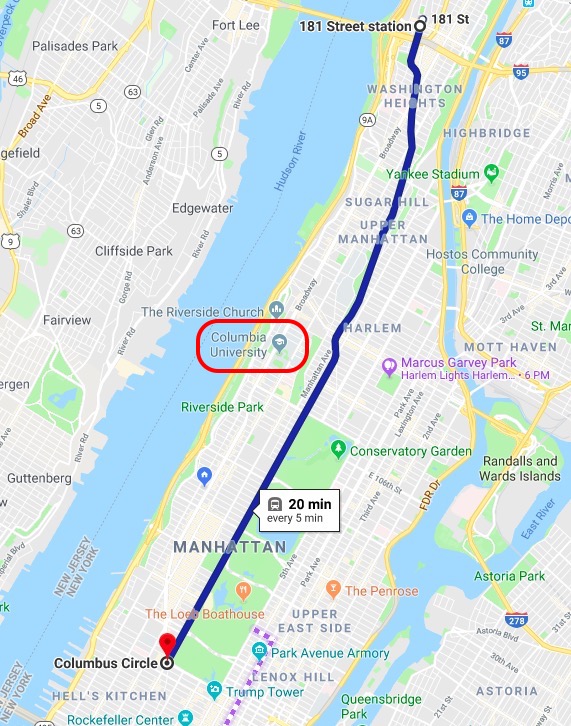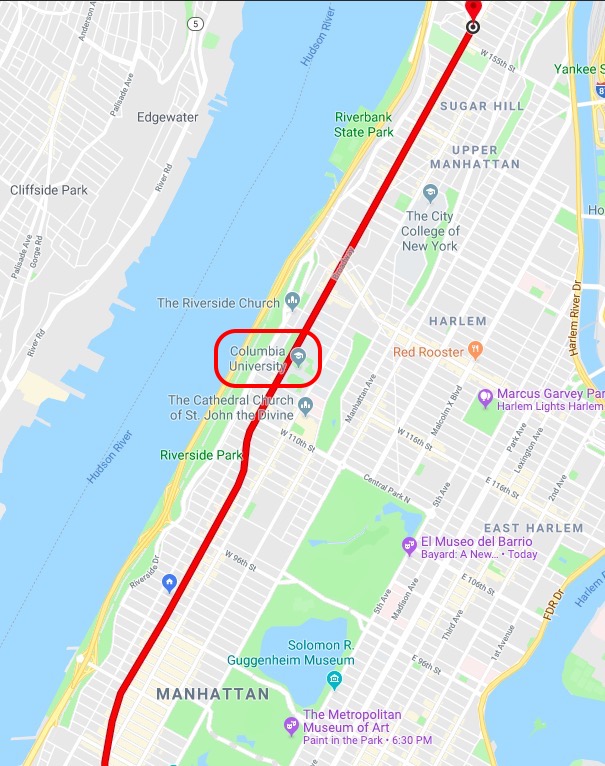 Columbia University Off-Campus Housing When Commuting By Bus
The bus opens up your off-campus housing options east of campus which could lead you to areas in East Harlem. There are more affordable housing options in the area but is also considered as one of the more 'sketchy' areas of the city. Generally has more riff-raff, feels a little less safe, and just seems dodgy.
As long as you live around the 116th street and 125th street crosstown buses, will keep you within that 30-minute commuting period.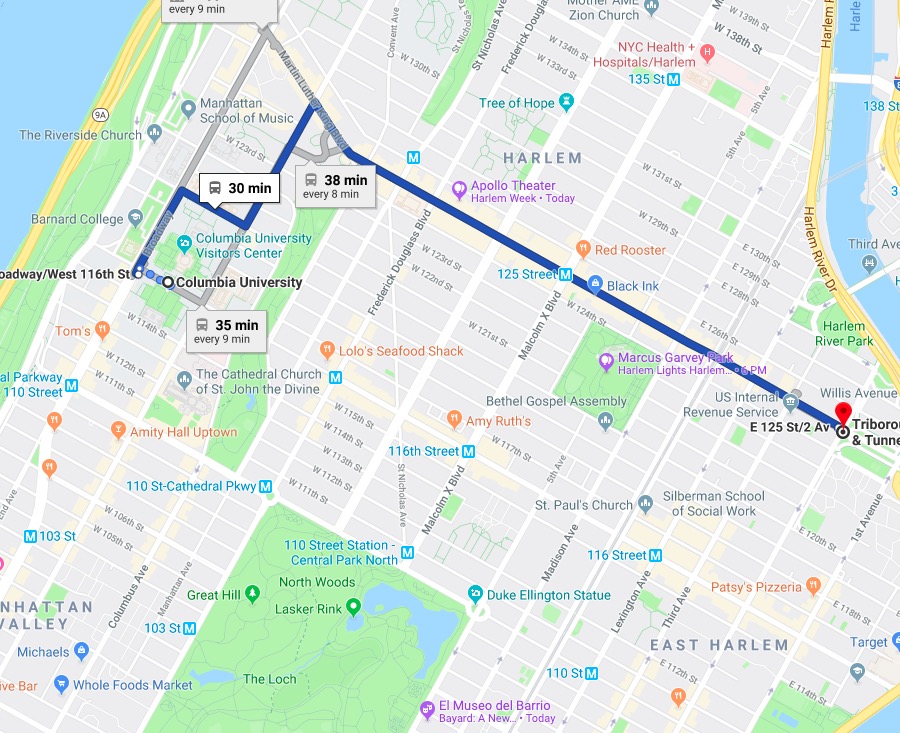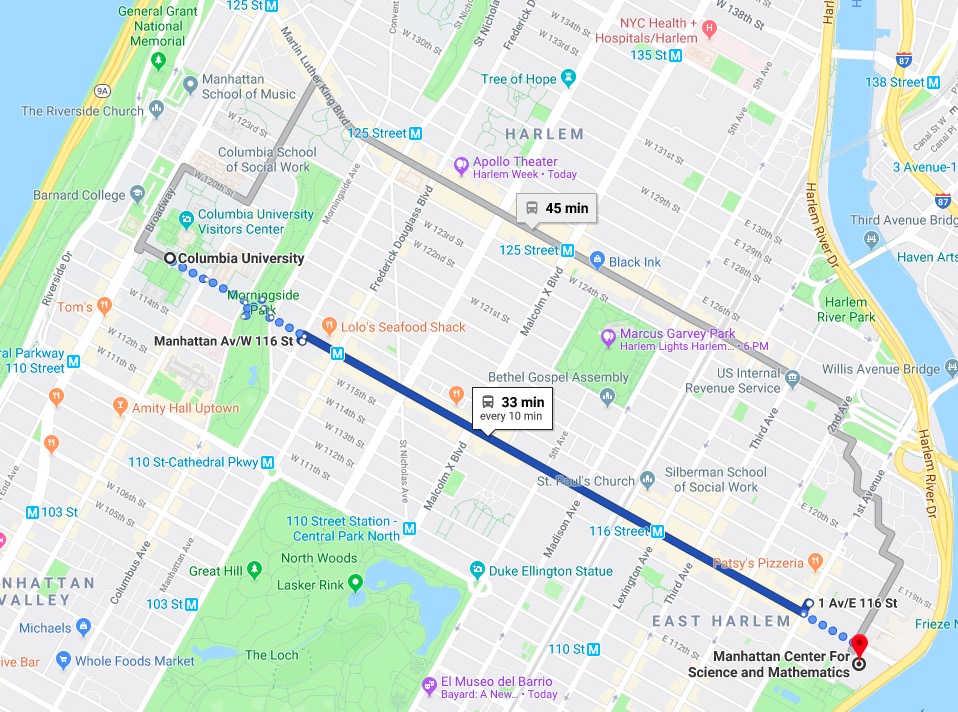 Luxury Apartments Near Columbia University
If you want to commute by walking and have the money to splurge. Whether you saved a good amount of money from your previous job or are fortunate enough to have your parents be a guarantor, or feeling the YOLO mantra because you want to have the best experience possible, there are a handful of luxury apartments near Columbia University to choose from. In Manhattan, luxury apartments are generally defined by having an elevator and doorman in the apartment building. At the higher-end buildings is where you start to get the bells and whistles such as rooftops with scenic views, lounges, game rooms, etc. Luxury apartments near Columbia University will cost $2300 per month at the minimum to live alone in a studio or 1 bedroom apartment. While it is pricey, considering it is a full-time home during the school year, it may be worth it.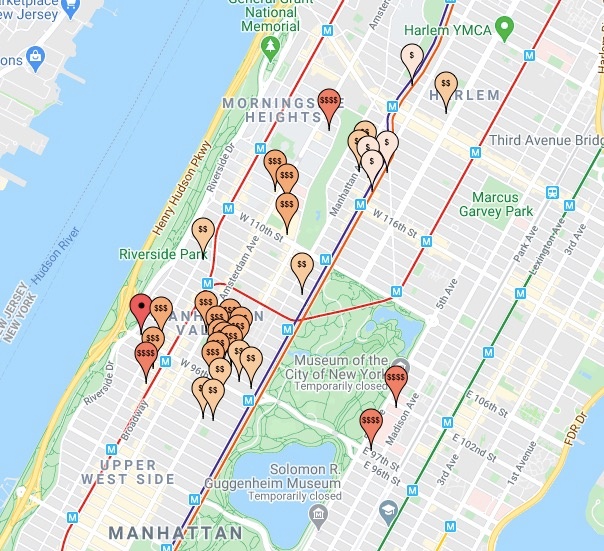 Studio Apartments Near Columbia University
If you want to commute by walking and want to live alone, there are a handful of studio apartments near Columbia University to choose from. Studios are great for privacy, which of course makes them very high in demand, especially for students. Studio apartments can come in two types of buildings: walk-up apartments where you go up flights of stairs and then elevator buildings. Generally, walk-up apartments are cheaper but because the demand for studio apartments near Columbia university is so high, the difference in price may only be a couple of hundred dollars in rent per month.
Other Columbia Off-Campus Housing Options
Realistically, Columbia University Off-Campus Housing comes down to a few solutions:
Rent An Entire Apartment Near Columbia University
You get your name signed onto the main lease agreement with the landlord/property owner. Whether you are renting alone, with a significant other, or have found a few prospective roommates to live with, the idea here is to have the apartment be your own by getting your name(s) on that lease. The vast majority of people go this route because the assurances of long-term housing are more guaranteed considering most lease agreements are a minimum of 1 year. This time frame rightfully aligns with university programs that range between 1-5 years. How do you find these off-campus apartments? This is also narrowed down to two solutions:
Get help. NYC rentals are tricky. Many students opt for assistance in the form of a local real estate broker for guidance. However, it will cost money in the form of a broker fee which will run any renter a few thousand dollars. It is very well known that it is a costly but perhaps worthwhile option. There are hundreds of brokerage firms and thousands of brokers.
Otherwise, if you are cost-conscious and are willing to do the work yourself, do the online research and the groundwork, such as viewing the place yourself, gathering all your documentation together, and getting that apartment yourself. There are many no-broker fee buildings in NYC where you can rent directly from property managers to bypass the broker fee. Transparentcity is a key source for no broker fee buildings. There are hundreds of buildings near Columbia University where you can rent directly from property managers without having to pay the broker fee.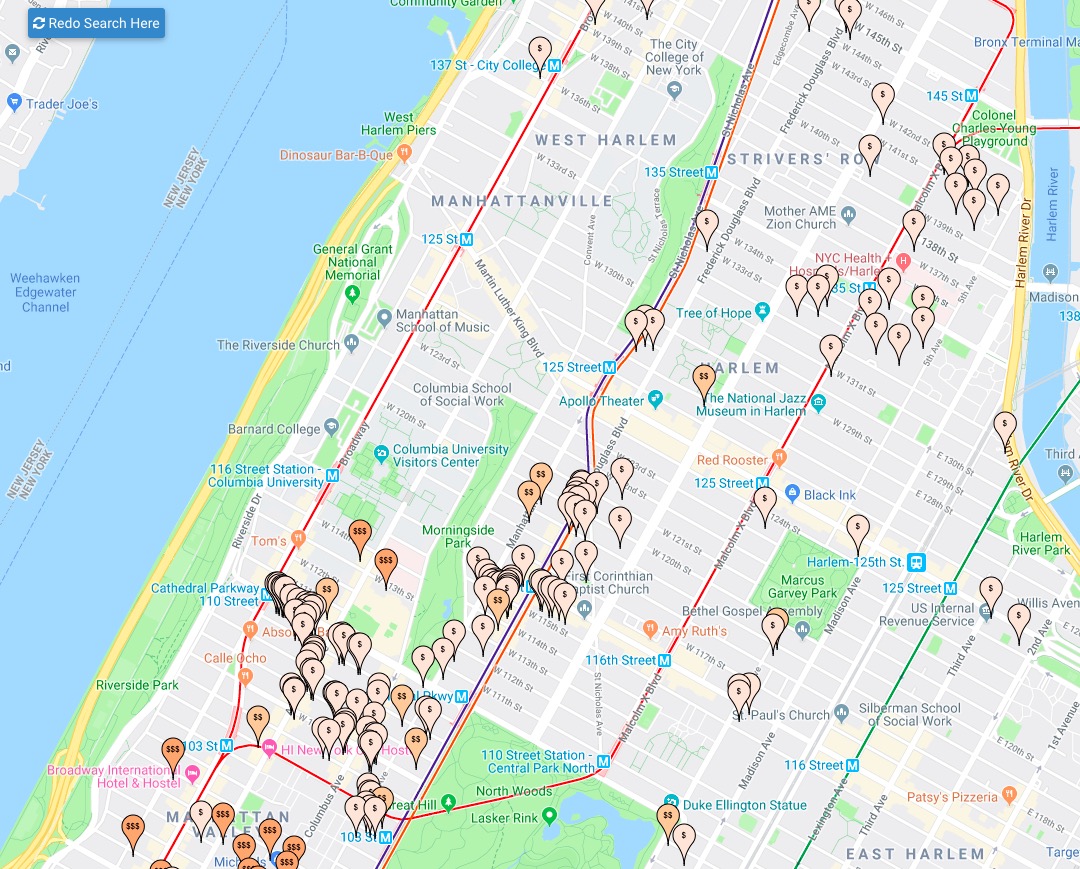 Renting Rooms Within An Apartment
Mainly shack up with people you don't know. There has been an explosion in NYC co-living over the last 5 years with the success of co-working space WeWork (from a customer perspective WeWork is a fantastic success. We can't speak from the investor, valuation, or employee point of view). Startups have taken the same concept and have applied it to residential renting. The options range from renting an empty room to roommate matching to subleasing a room from an outgoing tenant. This is also entirely done online. There are no brokers to assist with this process.
Rent By Taking Over Someone Else's Apartment Entirely
Mainly as a sublease. This means looking for an apartment with an existing renter who is looking to get out of his/her apartment for whatever reason and take over the place. This is almost entirely done online and can be researched through different platforms such as Leasebreak.
What Are Good Online Sources To Use
Of course, you have Columbia's own housing resource guide which has been edited and kept up over the years that provides a list of apartments near Columbia University. Interestingly enough, it may just lead you back to Transparentcity.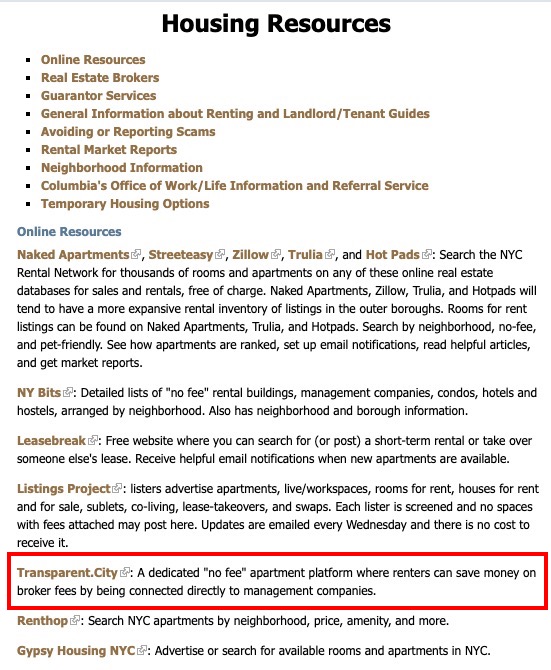 What Are The General Requirements To Rent Off-Campus Housing For Students
For Foreign Students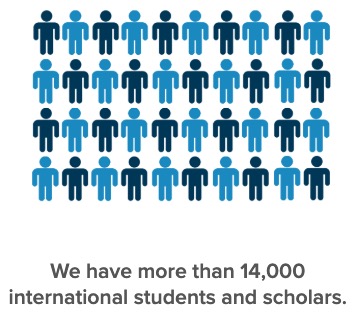 There has been a gradual bump in international students over the years. For example, in 2017, Columbia's ISSO program alone had over 14,000 international students who need housing. What type of documentation do you need in order to get off-campus housing?
Proof of savings (2 months to a 1 year of bank statements)

Approved loans

Fellowships

Scholarships

Guarantors - Varies between landlords on whether they accept out-of-country guarantors

Even though there are new rent laws stating landlords can only take 1 month upfront, it isn't being fully enforced yet and the rules are still vague.
For Out Of State Students
Almost exactly the same as foreign students but with a handful of exceptions
Your U.S. Credit Score will get checked

U.S. guarantors are basically guaranteed to be accepted by all property managers