We all know that New York City is the center of the universe, but it is also the center of the spending world - it can get quite costly to live here. From having the highest rents in the world with apartment finder fees (aka broker fees) that don't exist anywhere else in the world to paying a ton for dry cleaning and take out food, everything seems to cost so much more than it does anywhere else.
So how can you live in NYC for cheap? It isn't that difficult once you get used to it, but for most people, they just don't have the adjustment period that they need to get used to it. Unless you are moving to the city with a ton of money (and who is), you can't really make mistakes. To prevent that from happening, here are our top tips for living in NYC cheap:
Trade A Longer Commute For Cheaper Rent
We know that the public transportation system in New York can downright be gross and dirty but it is surprisingly efficient. With rent being the largest part of your spend, if you want to live in NYC on the cheaper side, one of the best things you can do is move a little bit further away from Manhattan. Meaning the further north of 110th street in Manhattan the more affordable it will be. Consider looking into some of the growing and changing neighborhoods around Manhattan, like Harlem in Upper Manhattan, Long Island City in Queens, or the different scattered neighborhoods areas in Brooklyn.
Remember you have to balance it out - you want to look for somewhere where you can reliably take public transportation (make sure there isn't a planned subway construction that will turn your local subway station into a part time worker aka the L train to Williamsburg).
If you are looking to find somewhere to live in NYC, consider using transparentcity.co to look for apartments. The site connects renters directly with landlords, cutting out the broker entirely which will save you thousands of dollars in broker's fees when you find an apartment.
Living With A Roommate(s)
Because rent is single handedly the largest expense for most New Yorkers, lowering that cost is a top priority for most renters. Economies of scale also apply to NYC rent. A person living alone in a more affordable location will spend anywhere between $1,800-$2,500 for a Studio apartment. Shacking up with a roommate in an affordable 2 bedroom brings that cost down $1,500 per month for a $3,000 2 bedroom. A $4,000 3 bedroom brings that down to $1,333 per person per month. The more roommates you get, the cheaper it tends to get.
Don't Drink Your Calories - Or Your Rent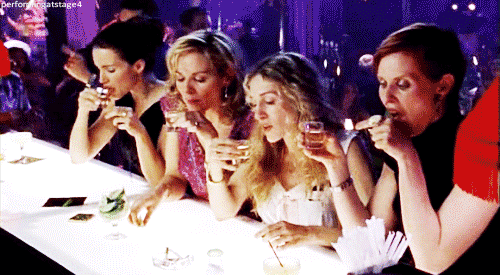 Every television show or movie you've ever seen about New York City features a group of friends circled around a bar or a coffee shop. While you can certainly do this once in a while, do not drink away your rent money. Cocktails, in particular, are quite expensive at NYC bars (think $15 - $20 per). What you may want to do is find a few bars that serve drinks that you like at a price you can afford AND they have specials like buy one, get one. Happy hours are the best bet and they are EVERYWHERE! Now, they won't be the glitziest of bars like those pop up speakeasy's that everyone likes but they are closer to your local pub bars where you can go and feel comfortable with a group of people.
Even better, you may want to skip bars altogether and go to your local Trader Joe's - you can get cheap wine or mixers there and make your own. You are paying rent for your apartment, so why not use it?
Another great tip for living cheap in NYC is to skip buying your coffee at Starbucks, Joe's Coffee, Juice Generation or Pret a Manger. Instead, get yourself a reusable coffee mug (save the environment at the same time) and make your own coffee at home. While this might seem like a common suggestion, it is actually one of the easiest ways to live in NYC cheap - they know we will pay a premium for coffee if we need it. If you do have to buy coffee, stick with drip coffee instead of a latte. Use those as a reward for getting through the week, going to the gym regularly, or meeting a goal at work.
Public Transport and Pooled Ride Sharing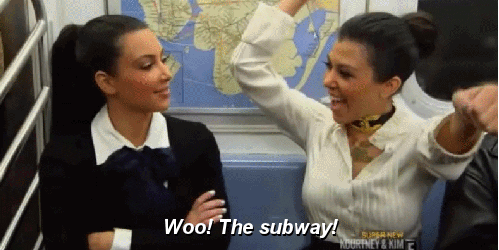 If you live in New York, you are going to travel around New York - so you want to get a weekly or monthly MTA card. Depending on how often you take the subway or a bus, you can lower your cost-per-ride significantly by using one of these options. It will also help you to do other things in NYC for cheap - you will be willing to travel around the city for deals when you don't have to pay for every trip.
Now, many people will get a subway card through work, but if you don't, this is one of the best ways to save a few cents here and there that will add up over time. It will also make it more likely that you will use the subway. Too often, we fall into the habit of saying that an Uber or a Lyft is only a "few dollars more" than the subway or the bus, so we decide to take that method. When you have a lower cost, it is more likely that you won't talk yourself into taking the more expensive option. If you're going to use ride sharing apps, start looking into the Pool options that only exist in major cities. It's a carpooling option where the driver picks up multiple passengers along individual personal routes. It does take longer to get you to your destination but the price is generally half of the cost of getting your own car. Via is another pooling app that is quite big in NYC.
MealPal
The latest and hottest trend in NYC is to purchase a subscription to MealPal. For a monthly subscription price, you get meals from different restaurants prepared for you. All you need to do is book a meal the day before and then pick it up the next day at a designated time. The beauty of it is it comes out to about $6 per for a decent meal. Talk about cheap lunch eats on a daily basis that is completely in line with NYC cheap living.
Premium Versus Standard
In the Big Apple, there are generally two types of markets for everything. The standard that most people go for and then the items that people may decide to splurge on. Instead of opting for the premium version, start going the standard route for cheaper living.
Sweet Green Salad $15 versus Deli Salad $9
Equinox Gym Membership $200 versus Planet Fitness Membership $50
Whole Foods $80 bag of groceries versus Trader Joes $40 for same bag
All inclusive cable package $175 versus Internet only $75
It Is So Doable!
Living in NYC cheap is a possibility - and for many people, it is a way of life. There are so many other ways that you can save money, including by making your own food, shopping at thrift stores, only buying what you really need, living with a roommate, and so much more. Don't ever let the budgetary concerns keep you out of the city. While NYC will cost you more than other places, most people learn to adapt.