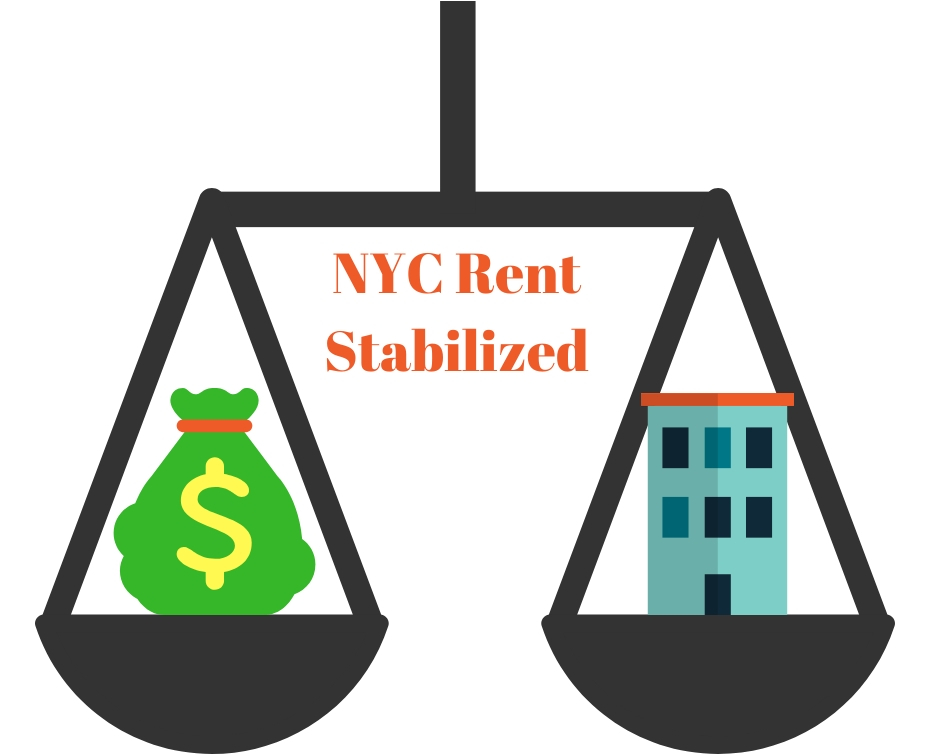 Quick Recap On NYC Rent Stabilized Apartments
What is rent stabilization in NYC? When the lease for a NYC rent stabilized apartment is up, the rental increase is regulated and you are guaranteed to get a renewal lease. After the initial approval of the application, the landlord of the apartment is basically stuck with you forever because they have no recourse in getting you out of the apartment barring some illegal activity or lack of payment that would void the lease. The leases are almost as binding as a marriage. As a renter tenant, you would have to opt-out, decide not to renew, and leave on your own. This is a hugely comforting factor when it comes to renting an apartment to know that you are guaranteed a home. This is vastly different than market-rate apartments where the landlord can jack up the rent on you and even decide not to renew your lease at their discretion.
Debunking Some NYC Rent Stabilized Apartment Myths
A NYC rent stabilized apartment does NOT equate to cheaper rent. Many people assume that because an apartment is rent stabilized, it means the apartment is going to be lower in price or 'cheap' relative to the market. When in fact, the starting rent for NYC rent stabilized apartments are often quite close to market-rate apartments in the neighborhood and not necessarily cheaper at all. The benefits and the value add of the rent stabilized apartment are mainly the limitations in price increases as well as lease renewals which over a long period of time, say 5-10 years in the same apartment, cumulatively may add up to tens of thousands of dollars in rent money savings.
Why do people assume Rent Stabilized apartments are cheap? It's probably because the term is similar to 'Rent Controlled' apartments where the monthly rent is insanely low. Today, it is safe to say that rent controlled apartments are an urban legend and don't exist. Don't bother looking for one because it'll take too long. The terminology of 'Rent Stabilized' and 'Rent Controlled' sound similar and both are combined together on the same NYC government official documented Factsheet.
What Proof Is There That Apartments Are Rent Stabilized?
We have compiled an active list of Rent Stabilized Apartments In NYC For Rent at any given point in time.
Property managers/management companies who control a lot of rental buildings do advertise whether an apartment is rent stabilized directly on their websites. It is not a frequent occurrence but it happens enough to warrant keeping an eye out for them. Even though the initiative at Transparentcity is to connect renters directly to management companies to save on the broker fee, we will track highly sought-after tidbits such as rent stabilization to further benefit the renter.
We list a few example property managers who place notes on their websites advertising rent stabilized apartments which we use as proof before tracking them as rent stabilized on Transparentcity. Not only are these apartments rent stabilized but they are also no broker fee apartment buildings meaning if you go directly to the property manager, you are able to score a rent stabilized apartment AND pay no broker fees! Save yourself a few thousand dollars in fees AND lock in very minimal rent increases year over year! What stands out is the fact that the rent for each of these apartments is in fact at market rates. As mentioned before, rent stabilized apartments are by no means "cheap".
IBEC Living - has many rent stabilized apartments in both Harlem and the Crown Heights area of Brooklyn.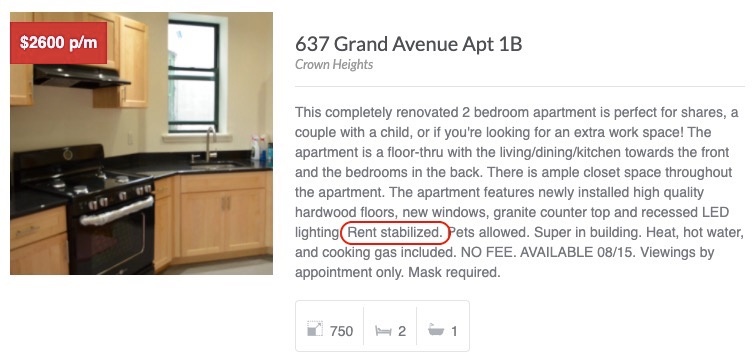 The Vanguard Chelsea in Flatiron/Chelsea and The Verdesian in Battery Park - are two LEED-certified, green, sustainable luxury doorman elevator buildings with great amenities managed by The Albanese Organization where the ENTIRE building is rent stabilized.

K&R Realty - Go No Fee - is known to have many rent stabilized apartments under management in the Harlem area and frequently advertises them on their website.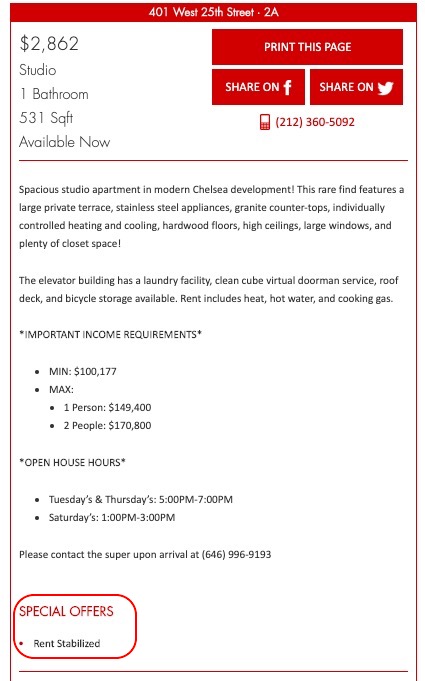 Glenwood Management - is known to have a few scattered rent stabilized apartments here and there within their luxury buildings.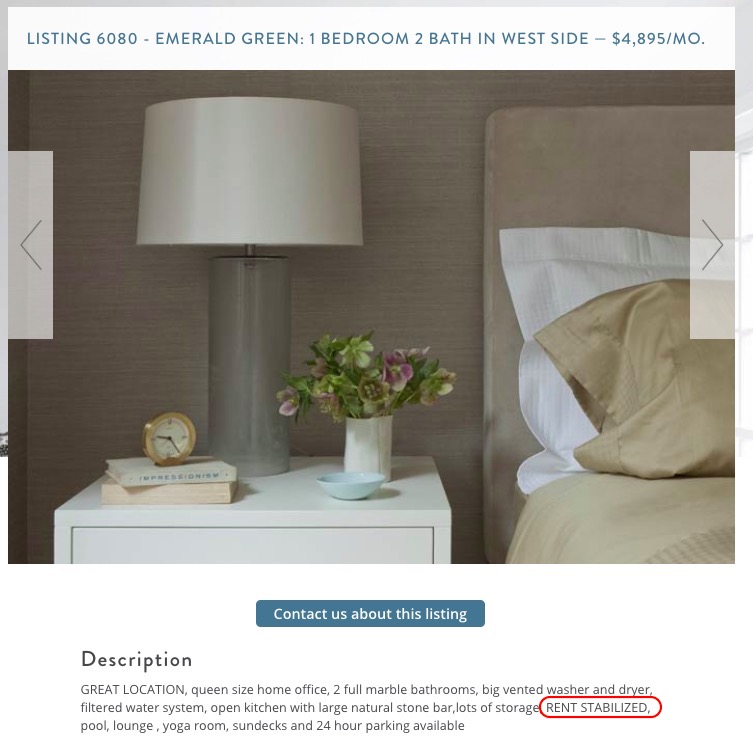 City and Suburban Leasing - is also known to have many rent stabilized apartments within their portfolio of Upper East Side walk up buildings. This property manager prices their apartments at the lower end of the market making them highly desirable. For example, Studios and 1 Bedrooms are being priced in the $1500 - $1800 per month range.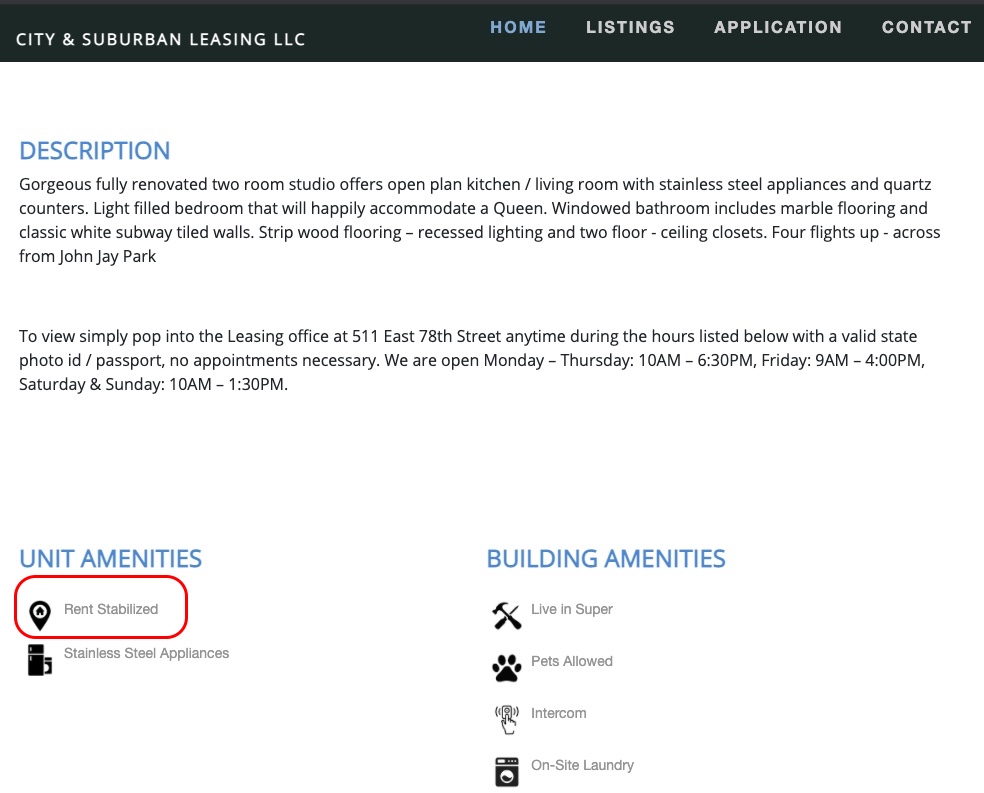 535 Carlton Avenue and 38 Sixth Avenue - are two newly constructed elevator buildings with great amenities in Prospect Heights, Brooklyn managed by Pinnacle Living where the ENTIRE building is rent stabilized. Income limits do apply so be sure to read into the qualifying ranges.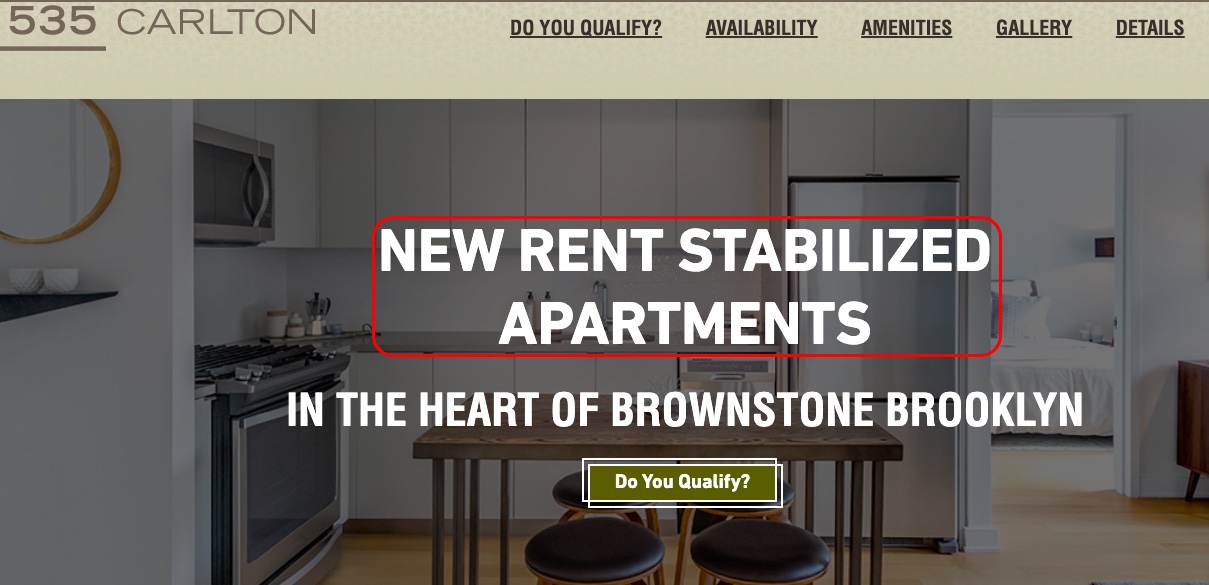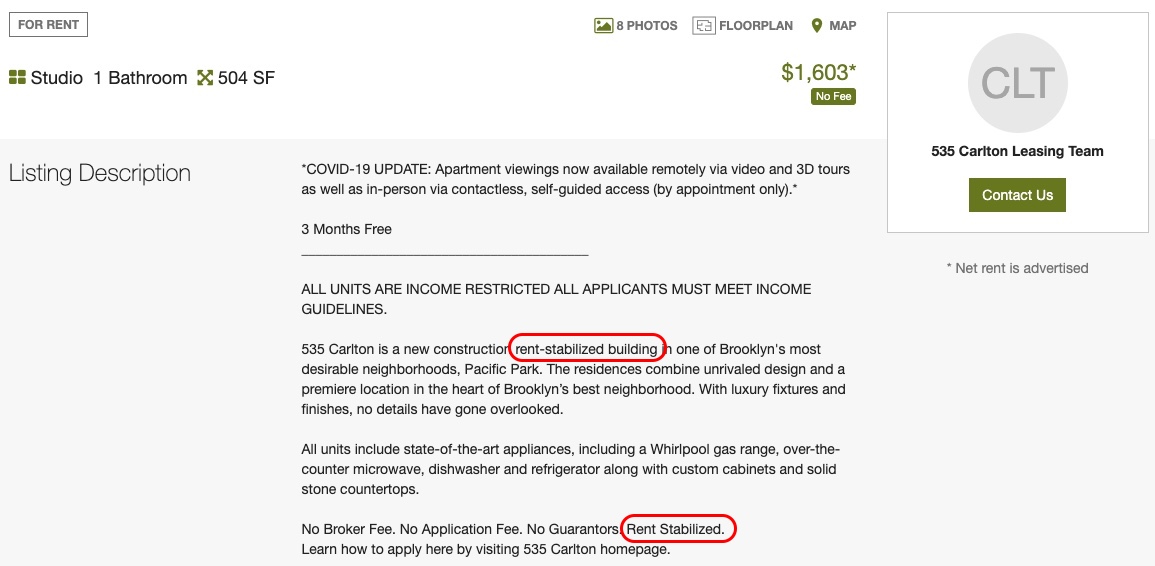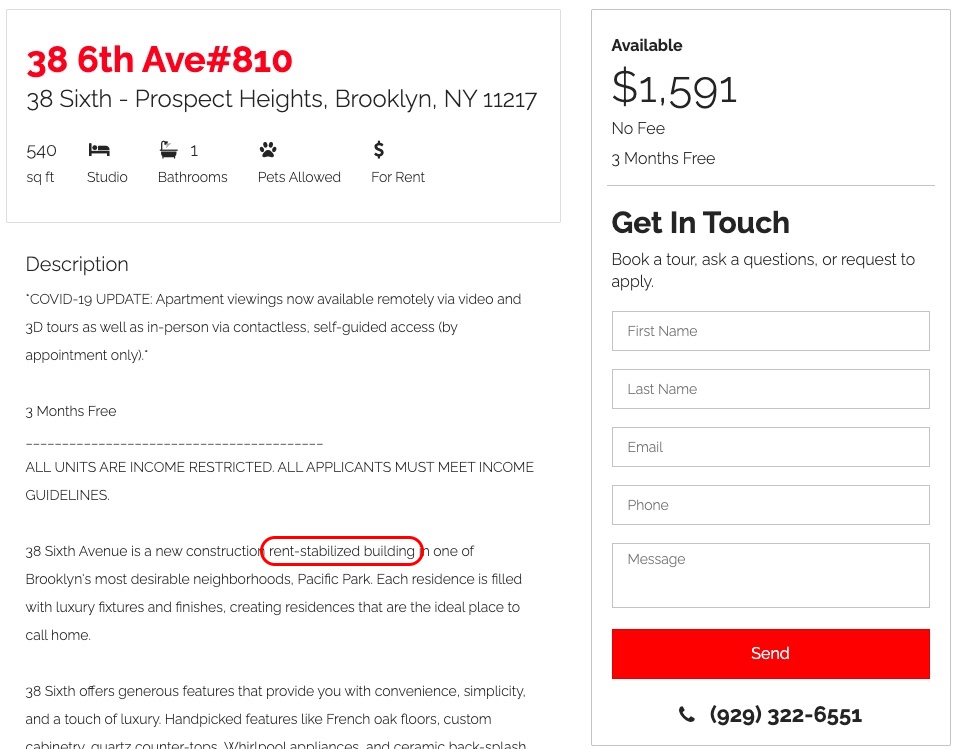 66 Rockwell - is a building in Fort Greene Brooklyn managed by Dermot where the entire building is also rent stabilized.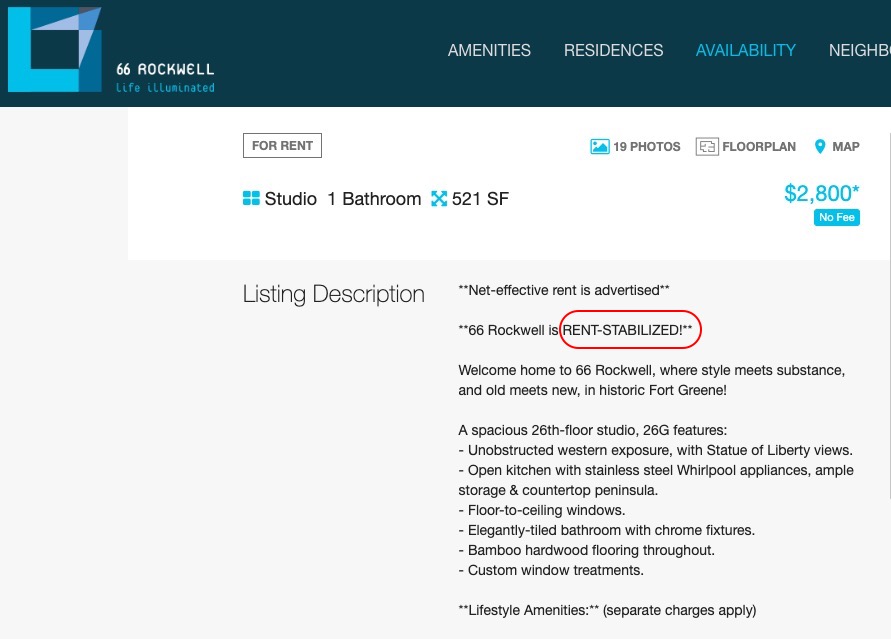 300 Ashland - is another building in Fort Greene Brooklyn managed by Two Trees where many of the units, not all, within the building are rent stabilized. If the unit is rent stabilized, there will be a subtle description on the listing.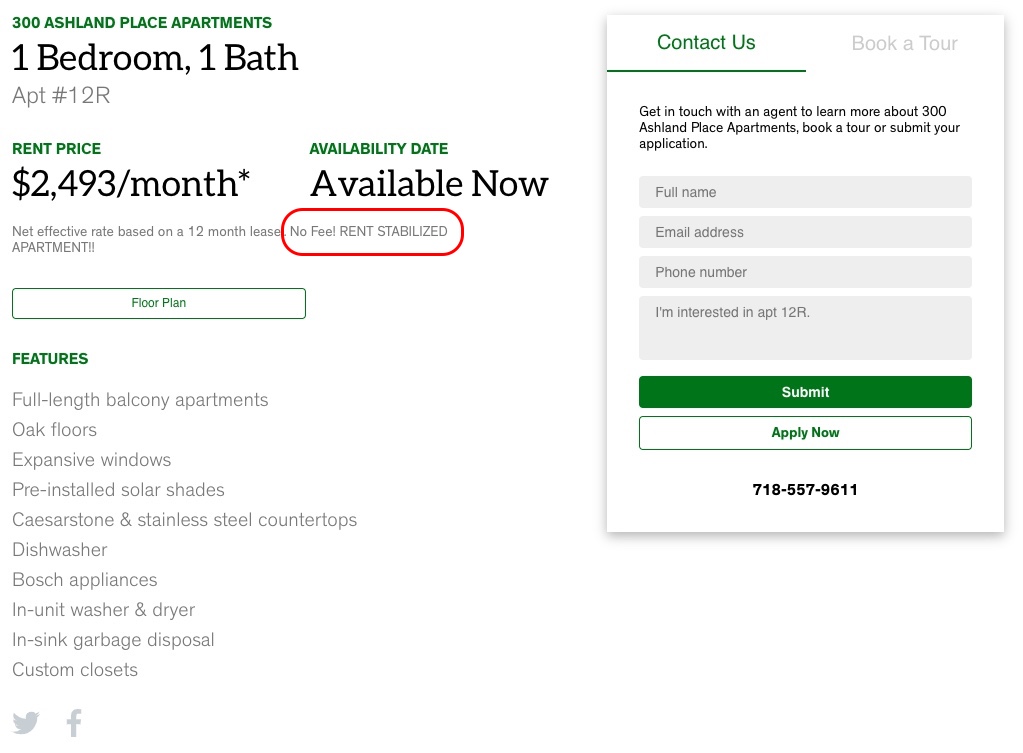 Queenswood Apartments - is a community in Corona Queens managed by Brookfield where the ENTIRE community is rent-stabilized.

How Can You Easily Find Rent Stabilized AND No Broker Fee Apartments On Websites?
On Transparentcity, there is a filter for 'Rent Stabilized' that will filter out the no broker fee buildings that have available rent stabilized apartments for rent at any given time.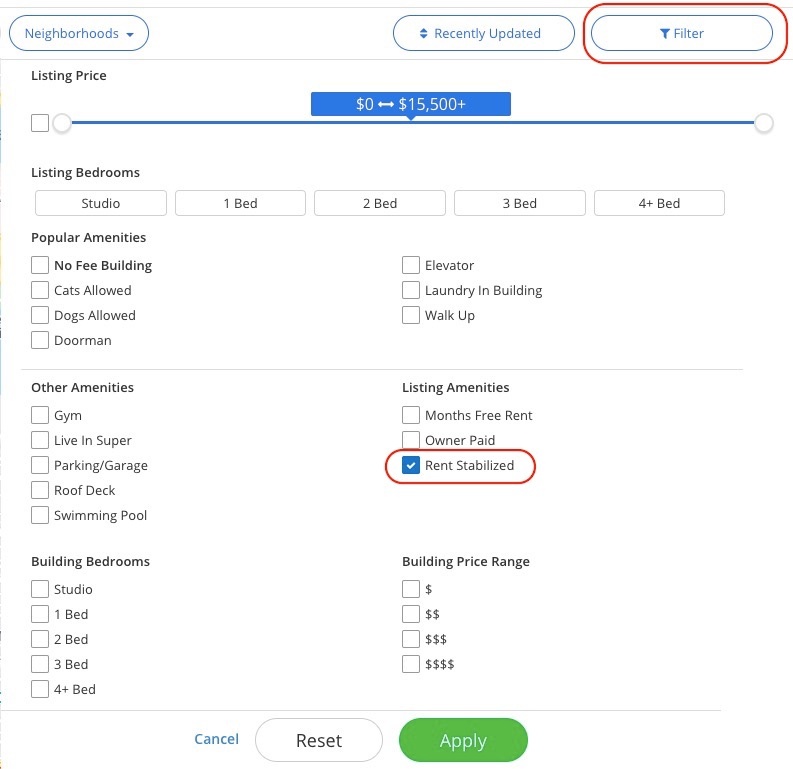 In the 'Listings' section there is a column for 'Rent Stabilize'. If there is any proof of a listing being Rent Stabilized, the column for that listing will be marked with a 'Y' for Yes. Here is an example.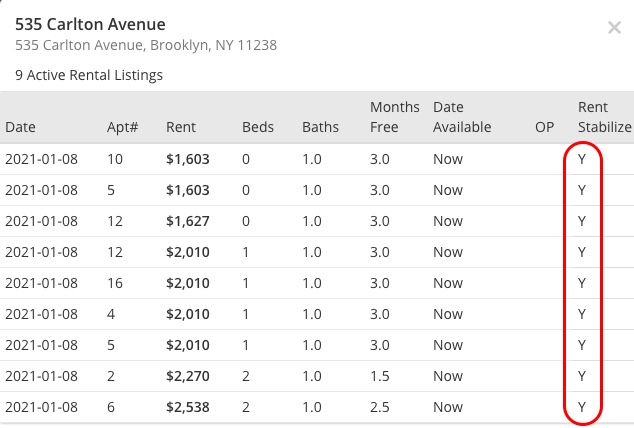 Fortunately, a handful of the popular NYC rental apartment aggregate websites such as Transparentcity, Streeteasy, Renthop, and Zumper all have a nice feature function that allows renters to filter through the descriptions of their listings where posters are writing in the description if the apartment is rent stabilized. All you need to do is a filter based on 'No Fee' AND the enter in a description of 'Stabilize' which will give you some results to browse through. However, when browsing through the results, make sure to try and differentiate whether the poster is the property manager or a broker. The 'No Fee' filter isn't necessarily accurate if a broker is behind the post because there may be extra incentives the property manager would offer to renters who go directly to them instead of through a broker.