Okay okay, I get it. All you need is an apartment but there are too many websites to choose from and it seems like every site you look at has a broker who just wants to make money off you. No apartment listing ever looks like the pictures that are posted and you're tired and angry. Suddenly moving back in with your parents doesn't seem like the end of the world. Before you go calling your mom and asking what's for dinner, let me give you the skinny on how to navigate the NYC rental website search. What is the best apartment search website in NYC? We'll review the most popular sites and maybe one or two more you didn't know of.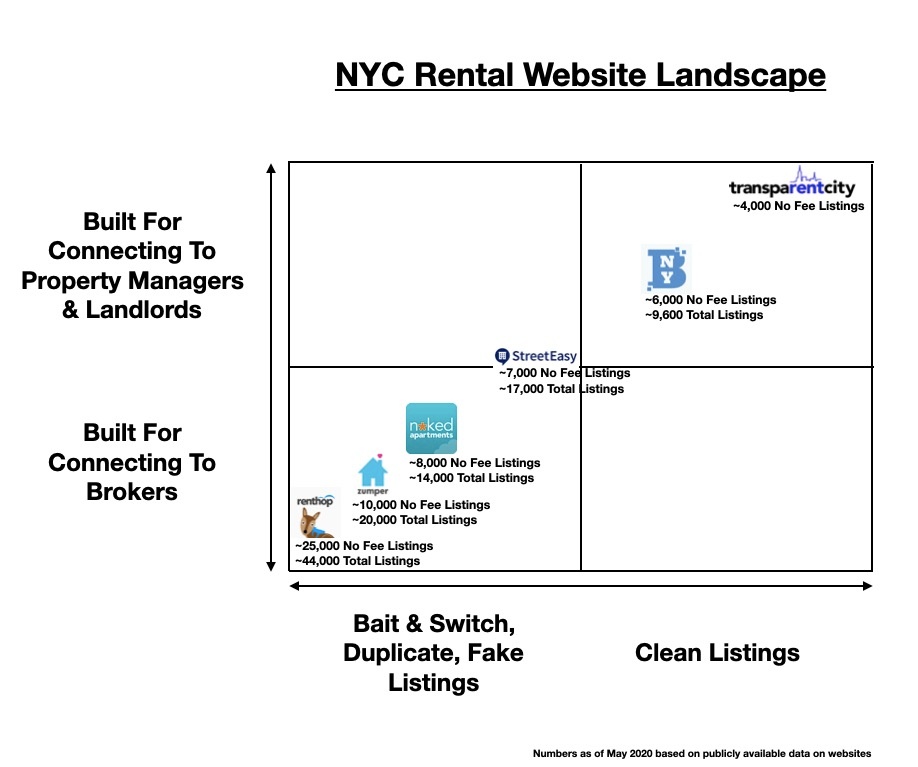 Here are the most popular and best NYC apartment rental sites:
Streeteasy

Transparentcity

Naked Apartments

Zumper

Renthop
If I had to put my two cents to it, I would say Streeteasy is generally reliable. The majority of
Streeteasy reviews
generally skew on the positive side compared to other sites. The differentiator between the other NYC apartment rental websites is that Streeteasy requires the listing agent to upload their exclusive agreement they have with the landlord so it is supposed to take away the opportunity for fake listings. This isn't followed in its entirety of course. Because most listings on Streeteasy are supposed to be exclusive listings, it will be common for there to be a broker fee, which is usually 15% of the yearly rent. Another positive about the site is they have people verifying data on some of the residential buildings and then tagging them with Streeteasy verified meaning someone has reviewed the data to be accurate. Streeteasy was acquired by Zillow in 2013 for $50M and fortunately for New Yorkers, has kept the site completely separate from the giant parent website.
There are of course other alternatives to websites like Streeteasy who are largely focused on the NYC rental market.
NYC is a large enough market to warrant many rental websites. General questions that come up for other players in the market are: What is Renthop? Where do I find Renthop reviews and Zumper NYC reviews? Is Naked Apartments NYC focused only?
These websites are the bad boys in middle school your mom told you to stay away from. The ones that promise you one thing and then do another. This is what we in the real estate world refer to as the "Bait and Switch". These listing sites require no proof from the brokers that the listings they upload are real. They allow brokers to upload listings without verifying the address, the price, or even if the inventory actually exists. Brokers upload these listings in order to generate more leads, and more leads bring brokers more deals. Now, this is not to say that every listing is fake, and this is also not a jab at brokers. But the existence of this process is what causes a lot of frustrations on the renters' end. Like Streeteasy, Naked Apartments was acquired by giant online real estate company Zillow in 2016 for $13M so in order to keep the gravy train running, the site needs to make sure brokers are getting their leads. The same thing with Renthop where you are going to see 40,000 to 50,000 active listings at any given point (which btw is clearly filled with duplicates and outdated posts). There are not that many distinct listings at any given point in time which means the majority of them are duplicate ads only possible because they are paid for by agents. Zumper in recent years ventured into the brokerage world with its own Zumper Select program making them direct competitors to other brokerage firms as well as aggregator platforms.
NyBits is not always thought of but definitely a reliable resource. It is not a name you hear a lot but with monthly viewership in the 30,000's, they are doing something right! I wouldn't say its the prettiest, or even the most user friendly, but their information is reliable, and when you just want to do the search alone, this is a great place to turn.
NOW... I think we can all agree that finding our perfect place online can already be tricky to navigate... if you're looking for sites like Streeteasy except without the brokers and the bait and switching,
Transparentcity
is the new player in town that connects renters directly to property managers allowing you to bypass that 15% broker fee. Before you commit to signing on the dotted line of that on that broker fee check, check it out. Trust us, you'll be doing yourself a favor with that extra spending cash. It is one of the websites like Streeteasy in the sense that it is NYC centric but with a sole focus on no broker fee buildings and listings. Meaning Transparentcity is also hands down the
best website for no-fee apartments in NYC.
Renthop vs Streeteasy vs Naked Apartments vs Zumper vs NYBits vs Transparentcity
What makes for a great website? Well 1st, the website has to be easy to use and easy to navigate. Nobody wants to waste time browsing through a clanky website or app. Everyone one of these sites provides for a good browser experience with the exception of NYBits which gives you the sense that you're either browsing through the yellow pages or an old college textbook. It's okay but not great. And 2nd, which is arguably more important than the 1st, is everyone wants listings accuracy so we can trust what is being sold. Streeteasy, NY Bits, Transparentcity will provide that more than the others. But then again, it depends on your agenda.
As a prospective renter using these websites, you have to ask yourself if you are looking for an apartment or if you are looking for a broker to get you an apartment. Most of these sites will lead you to a broker, which is great if you're in the market for one. Otherwise, it becomes annoying and makes for a not so hot experience.