Which NYC Apartment Rental Website Is Better?
While virtually every national website has NYC listings, it is difficult to distinguish them from each other. How do you find rental listing websites? There are multiple phrases that can be used in a search. For example, monthly Google searches for "apartments for rent in NYC" range in the 60,000s, and the top website results that come back are mostly associated with the largest home aggregator platforms. Those larger websites are great but are there others not listed on the first page that are worthwhile to browse?
What makes for a great NYC rental website? The obvious is that it has to be easy to browse and navigate. The not-so-obvious requirement is listings accuracy. The assumption is that anytime a rental listing is on a website, it must be real and accurate. Unfortunately, that's not the case with the NYC rental market.
So what is the best apartment search website in NYC? We'll review the most popular sites as well as a handful of NYC locally focused websites that are not well known nationally.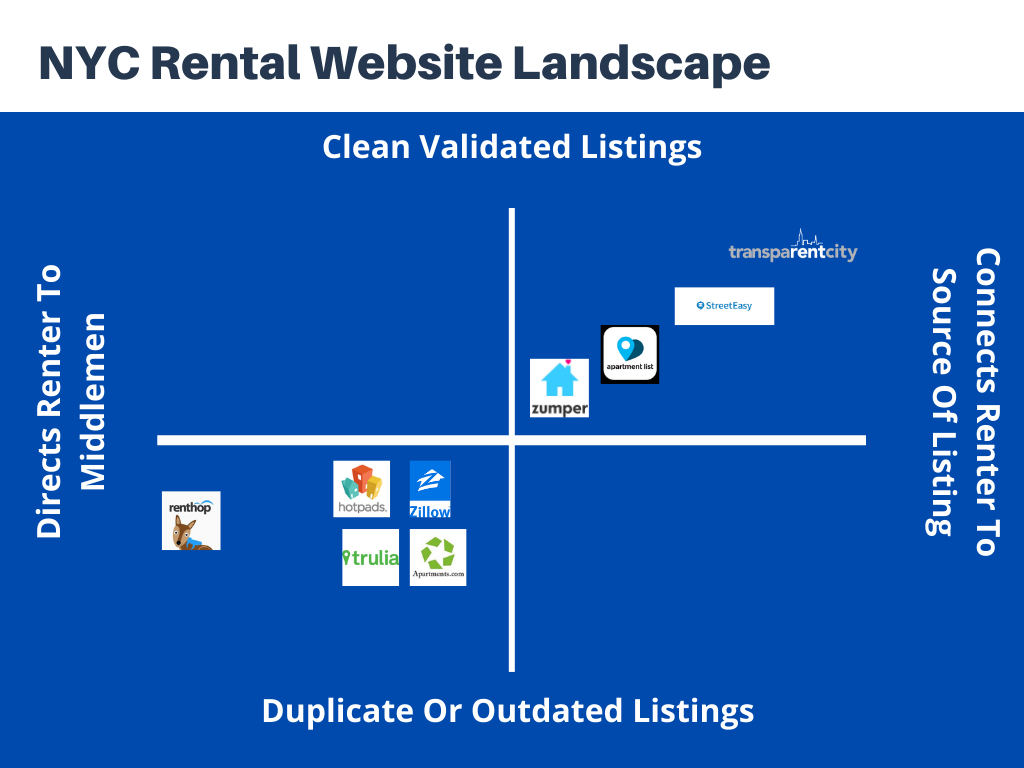 Transparentcity is NYC's listing platform that connects Renters directly and exclusively to Management Companies and Property Managers. A relatively unknown statistic about the NYC rental market is that thousands of market-rate apartment buildings, which equate to 200,000+ individual apartment units are under the management of only a couple hundred property managers.
The platform facilitates the communication between the prospective renter and the direct manager of the apartment by providing exact addresses, website links, and contact information of the management company. Transparentcity is one of the websites like Streeteasy in the sense that it is NYC-centric but with a sole focus on no broker fee listings making it is also hands down the best website for no-fee apartments in NYC.
One of the more difficult aspects of NYC apartment hunting is determining whether a rental listing is real. Whether it's Bait and Switch tactics or flat-out scams, any proof that could be provided to validate a listing goes a long way in gaining a renters' trust. One surefire way of validating is to provide the source, which is the management companies' own website.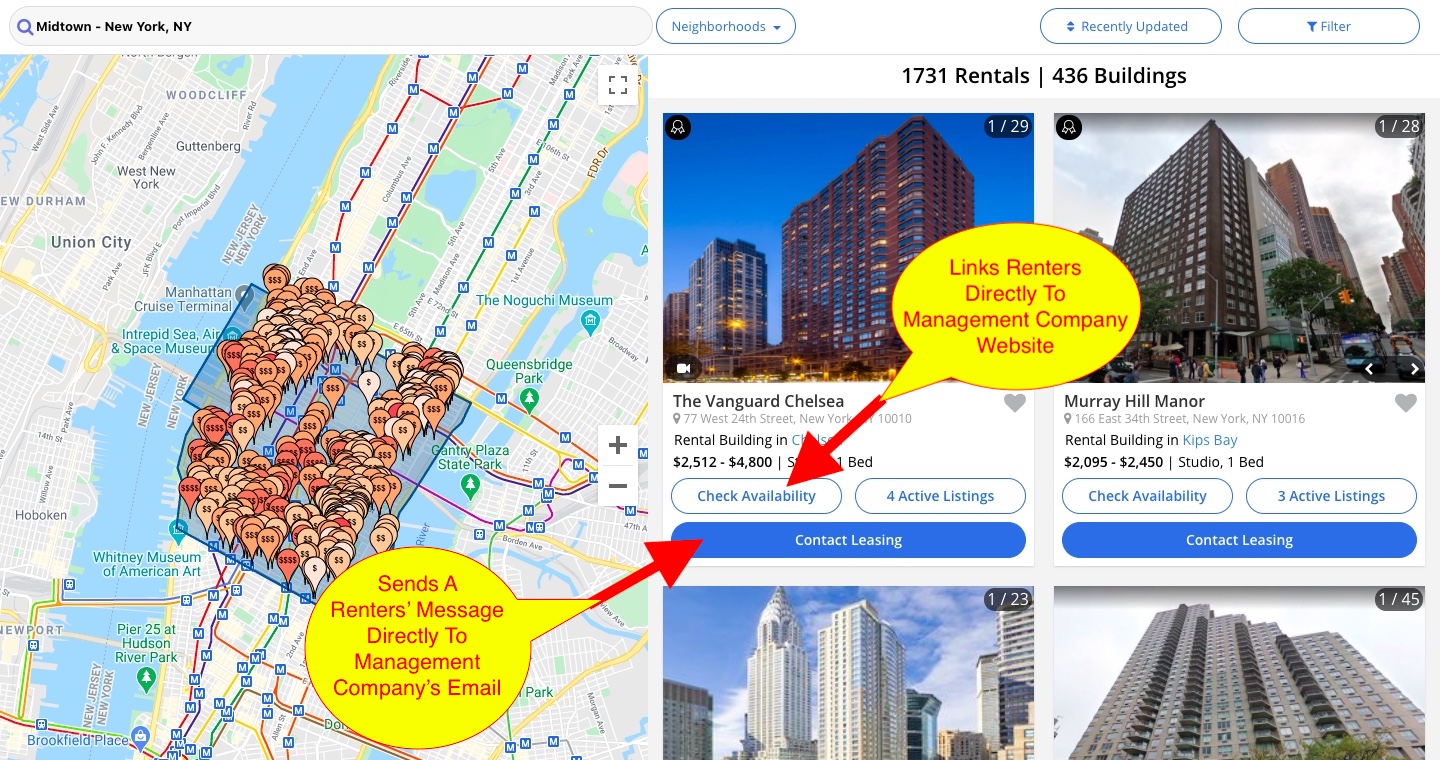 About Zillow
Zillow is the well known national real estate platform for both sales and rentals. The company has acquired a handful of other rental platforms throughout the years. The Zillow umbrella now includes the sites Trulia, Hotpads, Zillow itself, and most notably for the NYC rental market, Streeteasy, which it acquired in 2013 for $50M.
As it relates to the NYC rental market, between Zillow, Trulia, and Hotpads, the rental listings that appear on the platform are the same, which makes sense given the conglomerate. There are slight differences in the user interface and the way a renter navigates around the platform but the listings information is all the same across the three. What the three are missing is an ability to filter for 'No Fee' which is extremely important in the NYC rental market because NYC has an anomaly called "broker fees". Broker fees are an upfront cost to the renter of a few thousand dollars to rent an apartment. On those platforms, there is no good way to distinguish which listings have fees and which don't. The websites still rank highly on search results due to the sheer general size of Zillow.
Streeteasy is much different and looked upon as the most reliable option for the NYC rental market. The majority of Streeteasy reviews generally skew on the positive side compared to other sites. The differentiator between the other NYC apartment rental websites is that Streeteasy requires listing agents to upload exclusive agreement paperwork they have with the landlord so it is supposed to take away the opportunity for fake listings. Though this isn't followed in its entirety. Because most listings on Streeteasy are supposed to be exclusive listings, it will be common for there to be a broker fee. Another positive about the site is they have people verifying data on some of the residential buildings and then tagging them with Streeteasy verified meaning someone has reviewed the data to be accurate. Streeteasy fortunately for New Yorkers, has kept the site completely separate from the giant parent website. An alternative to websites like Streeteasy is Transparentcity which is largely focused on the NYC rental market.
What is helpful is the clear labeling of the company that posted the listing though it would be more ideal to see a separation between a brokerage firm and a management company.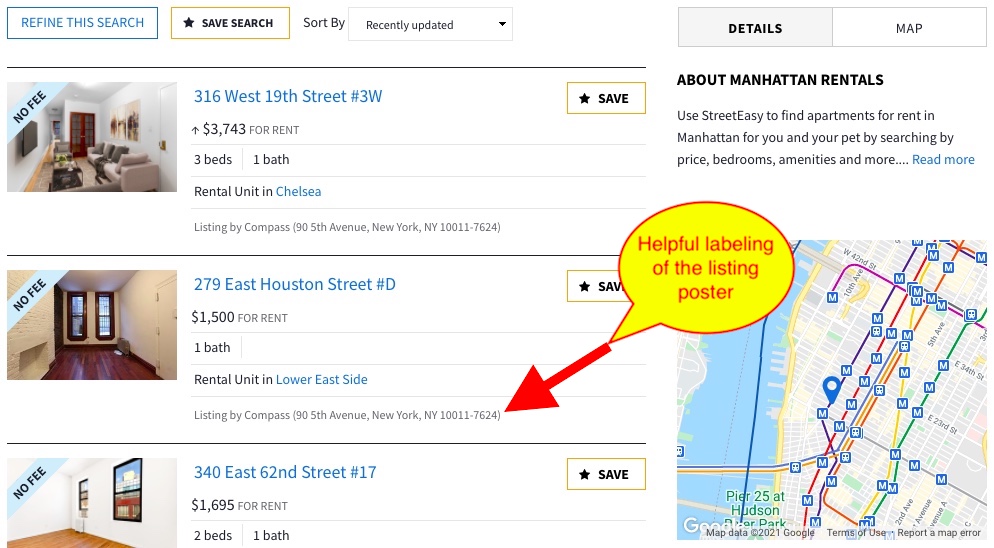 About CoStar
CoStar is a national conglomerate with a wide array of focuses around real estate information which ranges across commercial, residential and software products for the real estate industry.
As it relates to the NYC rental market, their most famous website is apartments.com which is known for frequently featuring Jeff Goldblum in all their televised commercials. Other websites that Costar has acquired over the years include apartmentfinder.com and forrent.com. Between the 3 websites, the listings are the same, which makes sense because they fall under one company conglomerate, and all source their information from the same place. The user interfaces and color scheme of each platform are slightly different but the overall navigation of them all feel the same. What the three are missing from their platform is the ability to filter for 'No Fee' which may be problematic for renters looking to save on the upfront broker fee costs.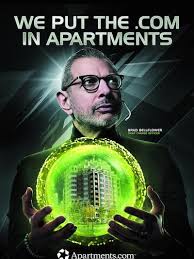 These listing sites require no proof from agents that the listings that are uploaded are in fact real. This enables brokers to upload listings without verifying the address, price, or even if the inventory actually exists. This leads to what the real estate world refers to as the "Bait and Switch". Brokers upload many listings in order to generate more leads, more leads bring brokers more deals. This is not to say that every listing is fake, and this is also not a jab at brokers. But the existence of this process is what causes a lot of frustrations on the renters' end. Don't be surprised to see an overwhelming number of listings at any given point but understand that many are duplicates where 1 specific listing could be listed by multiple agents which multiples the listing results and only possible because they are Ads that are paid for. Zumper in recent years ventured into the brokerage world with its own Zumper Select program making them direct competitors to other brokerage firms as well as aggregator platforms.
Apartment List has somewhat pioneered asking step-by-step pre-questions before providing renters with a list of apartment results. For example, once you get to the website, instead of searching for an area and immediately getting listing results, renters are guided through a handful of preference questions before being provided with a list of apartment results. It boils down to user preference: is it more preferred to see a larger list of results upfront and then further hone it down, or hone it down first and then view a shorter list of results?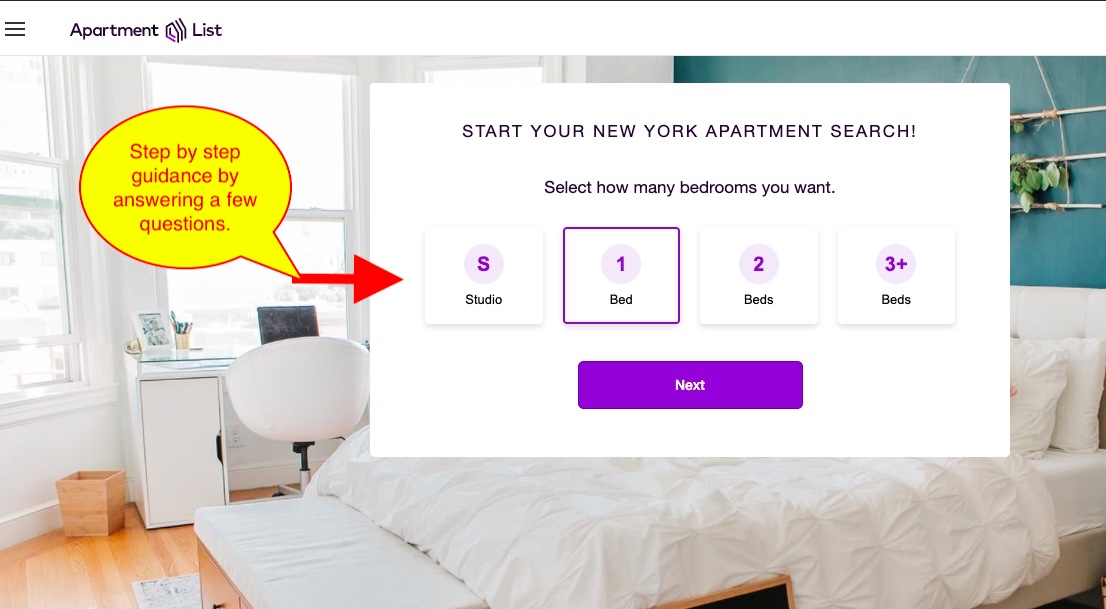 How Are The Websites Different?
Zillow, Trulia, Hotpads, Apartments.com, Apartmentfinder, Forrent.com, Apartment List, Zumper are nationally focused and just so happen to blanket the NYC rental market with the same interface a renter would use to look for a house in the suburbs.
Streeteasy, Transparentcity, NY Bits, Renthop, Leasebreak, CityRealty are NYC focused which allows for renters to dive deeper into the local market
Unique Features
NYC centric with a focus on connecting renters directly to the owners/managers of the apartments. There are no middlemen on the platform and listings are extremely clean.
Features Unique to Streeteasy
NYC centric platform that attracts the most number of listers from real estate agents and management companies while also enforcing cleaner listing quality.
Features Unique to Leasebreak
NYC centric with a focus on short term leases and sublets. There are no other platforms on the market with a sole focus on short term and sublease.
Features Unique to Zumper
One of the few hybrids between a listings aggregator and a registered broker agent.
Features Unique to Renthop
NYC centric with a focus on connecting renters to real estate agents. Ideal for any renter looking for help from a real estate agent.
Features Unique to Apartment List
The platform is one of the few that provides the guided questionnaire to help renters quickly figure out their needs.
NYC Apartment Rental Website Comparison Matrix