Use This NYC Net Effective Rent vs Gross Rent Price Matrix As A Quick Reference Tool To See The Difference Between What Is Advertised And What You Will Actually Pay Out Per Month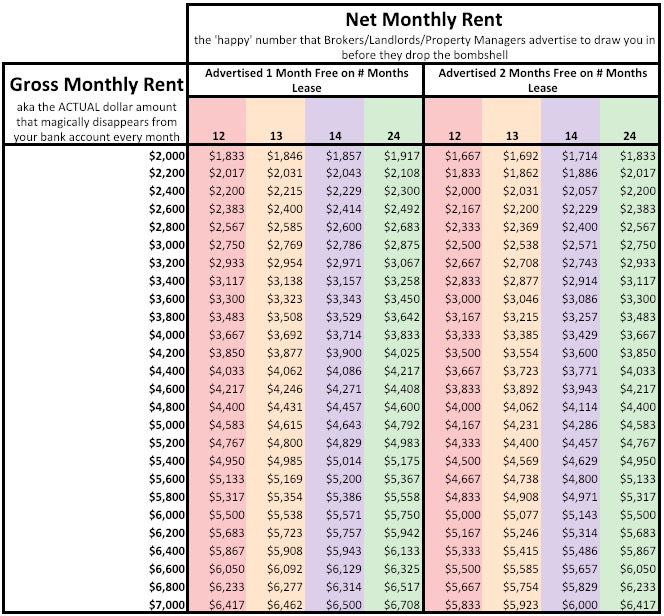 What does Net Effective Rent mean?
It is the calculated average amount of rent in dollars you would pay per month after backing the incentives/discounts that are provided by the apartment owner and then smoothed out over the monthly lease period. 
Based on our research and data, we are seeing 1 and 2 free month incentives being provided on lease periods of 12, 13, 14, and 24 months.  
Why does Net Effective Rent exist today and why do apartment owners advertise that rent figure?
Mainly to game the filters on the apartment listings rental platforms and to get a wider audience of prospects through the door.  As a prospective renter, one of the biggest factors in apartment hunting, if not biggest, is rent price.  A monthly budget is set aside to be allocated to rent and we all try our best to stick to that budget.  When browsing through apartment listing sites, a key filter that is always used is Maximum Rent.  The majority of apartment listing platforms have out of the box ranges in increments of $250 to $500.  For example, when opening the dropdown selection on 'Max Rent', the values that are displayed can go in increments from $2,000 to $2,250 to $2,500 or from $3,000 to $3,500.  Listing sites have this filtering mechanism in place to ensure a good user experience to help weed out any noise.  Don't show me the $10,000/mo penthouse when I'm buying instant mac n' cheese in bulk.  
However, from the apartment owner's perspective, it is more ideal to get as many views on the apartment as possible in hopes that prospective renters are willing to stretch their budget if they see something they like.  By creating and advertising these artificially deflated Net Effective Rent prices, the apartment will pass through more screening filters than the standalone Gross Rent price.  For example, it is possible and likely for a $3,000 Gross Rent apartment to now appear in a max rent search of $2,750 or even $2,500.  That one apartment just got through 3x the screening parameters.  Prospective renters won't look at something they don't know exists.  
What to do when you see Net Effective Rent advertised?
When you see the number being advertised, immediately tack on a couple of hundred bucks in your head to calculate the Gross Monthly Rent.  Then refer back to this matrix to help you get to the exact amount.  
At transparentcity.co, we are seeing a good amount of these pricing strategies across the board on listing platforms as well as on management company websites.  We wish we could force every apartment owner/broker/property manager into using the plain old 'monthly rent' standard pricing strategy because the Net Effective Rent versus Gross Rent is driving us all insane. 
What we can provide is more clarity and transparency into what it means.  Oh.  And we can help prospects save a few thousand dollars bypassing broker fees by linking consumers directly to property management companies.