Use This Net Effective Rent vs Gross Rent Price Matrix As A Reference Tool To See The Difference Between What Is Advertised And What You Will Actually Pay Out Per Month
.
What does Net Effective Rent mean?
Net effective rent is the calculated average amount of rent in dollars you would pay per month after taking into account the incentives/discounts that are provided by the apartment owner and then smoothed out over the monthly lease period making the monthly rent look less than it actually is. Generally, it is the 'happy' number that Brokers/Landlords/Property Managers advertise to draw renters in before they inform you of the actual monthly rent payments.
Net Effective Rent has been commonly advertised during the pandemic where anywhere between 1 to 5 months of free rent are being advertised to lure in prospective renters.
Transparentcity separates out the number of free months rent into a separate field.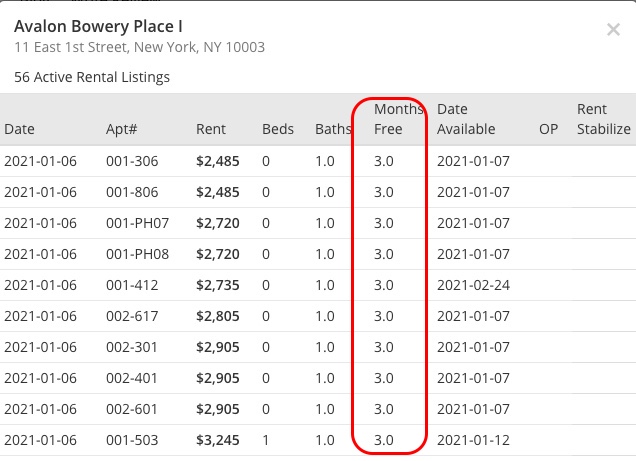 Why does Net Effective Rent exist today and why do apartment owners advertise that rent figure?
There are two main reasons why apartments are advertised at net effective rent instead of gross rent:
1. To the general renter audience, net effective rent is used as a marketing tool mainly to game the filters on ILS rental apartment listings platforms in order to gain a wider audience pool of renter prospects. As a prospective renter, one of the biggest factors in apartment hunting, if not the biggest, is rent price. A monthly budget is set aside to be allocated to rent and we all try our best to stick to that budget. When browsing through apartment listing sites, a key filter that is always used is Maximum Rent. The majority of apartment listing platforms have out of the box ranges in increments of $250 to $500. For example, when opening the dropdown selection on 'Max Rent', the values that are displayed can go in increments from $2,000 to $2,250 to $2,500 or from $3,000 to $3,500. Listing sites have this filtering mechanism in place to ensure a good user experience to help weed out any noise. Don't show me the $10,000/mo penthouse when I'm buying instant mac n' cheese in bulk.
However, from the apartment owner's perspective, it is more ideal to get as many views on the apartment as possible in hopes that prospective renters are willing to stretch their budget if they see something they like. By creating and advertising these artificially deflated Net Effective Rent prices, the apartment will pass through more screening filters than the standalone Gross Rent price. For example, it is possible and likely for a $3,000 Gross Rent apartment to now appear in a max rent search of $2,750 or even $2,500. That one apartment just got through 3x the screening parameters. Prospective renters won't look at something they don't know exists.
2. The other main reason is not as interesting nor relevant to the renter as it pertains to real estate accounting. For the owner/landlord of the property, those who have taken out a 'mortgage' have to meet requirements (covenants) with their lenders. Their lenders require a certain amount of rent (the gross rent number) to be paid over a period of a lease and are not concerned about the one-time short term concessions.
What to do when you see Net Effective Rent advertised?
When you see the number being advertised, immediately tack on a couple of hundred bucks in your head to calculate the Gross Monthly Rent. Then refer back to the matrix to help you get to the exact amount.
At Transparentcity, we are seeing a good amount of these pricing strategies across the board on listing platforms as well as on management company websites. We wish we could force every apartment owner/broker/property manager into using the plain old 'monthly rent' standard pricing strategy because the Net Effective Rent versus Gross Rent is driving us all insane.